Donation & Distribution Centers  –  Rebuilding Assistance  –  Waste & Debris Disposal  –  Shelters – NC Resources  –  Federal, State, & Local Resources  –  Small Business Recovery  –  SBA Home Owner Loans  –  Disaster Unemployment  –  And More
Donation & Distribution Centers for Citizens Impacted by Hurricane Florence
Glad Tidings Church,

4621 Country Club Road,

Morehead City, 

Thurs thru Sat 9-3

First United Methodist Church, 900 Arendell St., Morehead City, open noon to 6 p.m. Thursday (accepting donations only), and 11 a.m. to 7 p.m., Friday

Ann Street Methodist Church, 417 Ann Street, Beaufort Mon thru Sat 10-4, Sun 1-5

Monetary donations to Salvation Army, 1700 Arendell St. Morehead City

Hope Mission, 1410 Bridges Street, P. O. Box 1438, Morehead City, NC 28557, Hope Mission Services, Phone: 

252-240-2359

,

Executive Director: Gene McLendon

Carteret County Public School Foundation

, Please consider donating to the Carteret County Public School Foundation. We have many, many students and their families that have been severely impacted by Hurricane Florence. 100% of proceeds will go to help those in need. Our Foundation is totally run by a volunteer board so there is no admin costs. We are right here and know the problems. Through the support of principals and school staff members all cases will be validated. Please, please help us help our students and their families in true need with a financial donation. CCPSF, attn. Tabbie Nance, 107 Safrit Drive, Beaufort. NC 28516. The Foundation is a tax exempt 501c3. Facebook 

contact:

 foundation@carteretk12.org 

or 252.728.4583, ext. 1137
Rebuilding Assistance
Western Carteret Planning and Development Center and Beaufort Planning and Development Office
Waste and Debris
Solid waste convenience sites re-opened with normal business hours.
County citizens living on state roads can leave debris in the right of way. State Dot will pick up debris on state maintained roads ONLY. Please separate construction from vegetation debris.
Temporary debris sites:

Garner site, 293 Carl Garner Rd. Newport 
Otway site, 485 Harkers Island Rd. Beaufort (vegetation only)
Fredeen/Hwy 58 site, 1494 Hwy 58, Peletier
Shelters
Newport Middle School Shelter remains open, 500 E. Chatham St. in Newport 252-222-5841
North Carolina Resources
@NCEmergency
@NCDOT
Drive NC
FIMAN Flood status
NC211 Shelters, food assistance, storm recovery help
North Carolina EOC
Federal, State, Local Resources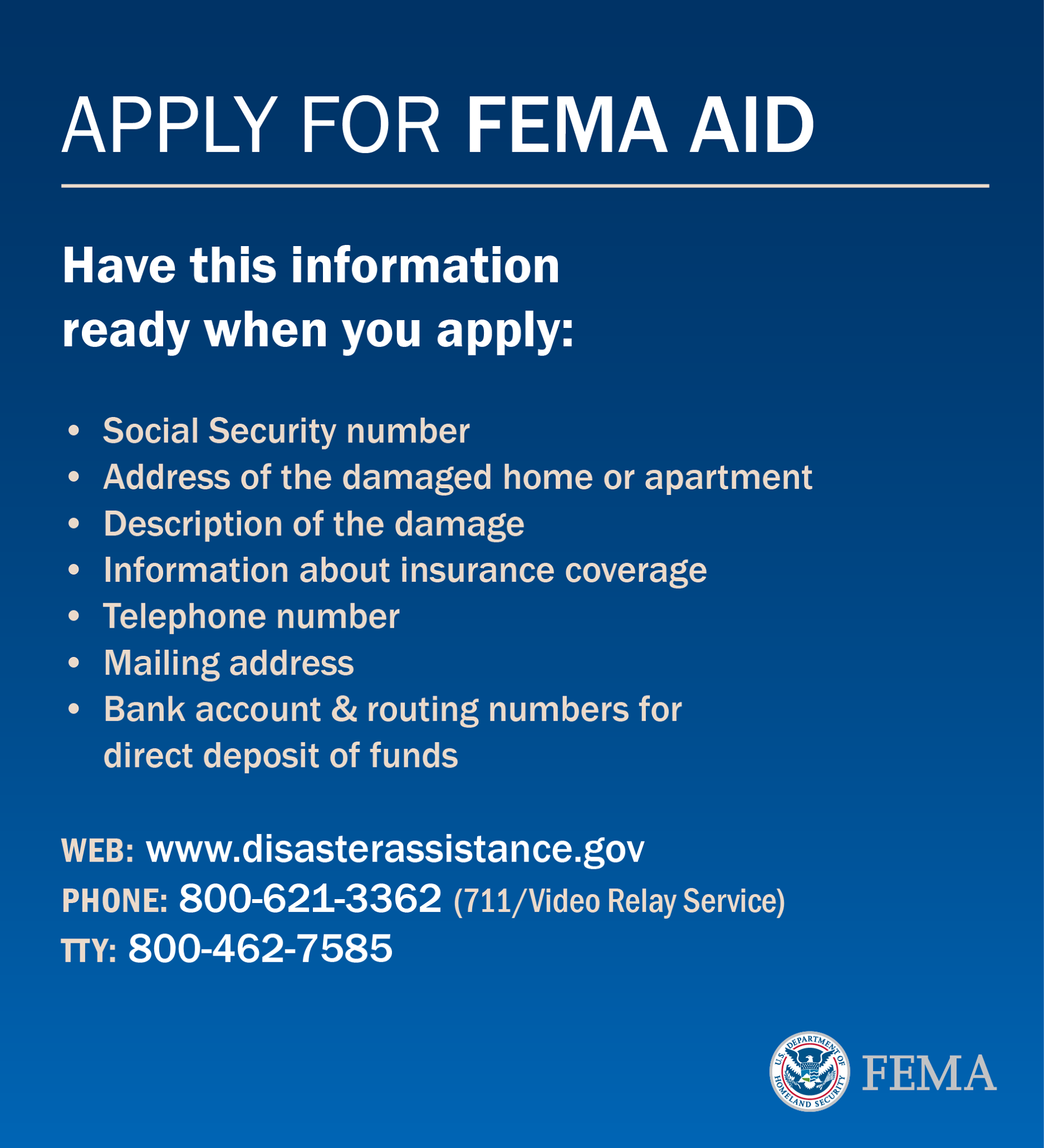 FEMA Recovery office is open at the Health Dept, 3820 Bridges St, Morehead City

Flooding

FEMA Facebook
FEMA en Espanol
@fema
@femaregion3
@femaregion4

FEMA 1-800-621-3362
Dial 211 or 888-892-1162 FEMA Individuals and Households Program
US Small Business Association Assistance (not just for business owners)
Home owners – After a disaster declaration has been made, SBA offers affordable financial help to homeowners and renters in declared disaster areas. You don't need to own a business. Help is available in the form of low-interest, long-term loans for losses not fully covered by insurance or other means.

Disaster Unemployment is available

I

f you have questions on how to apply with SBA or want to find an SBA disaster center near you, contact our Customer Service Center:
• Call 1-800-659-2955
• TTY 1-800-877-8339, or
• Email disastercustomerservice@sba.gov  or visit the SBA Disaster Loan page to learn more at www.sba.gov/disaster.